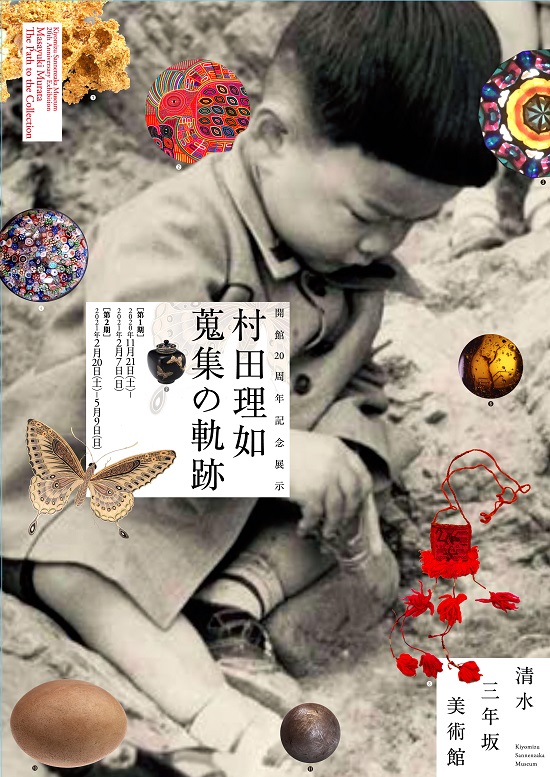 20th Anniversary Exhibition Masayuki Murata The Path to the Collection I
The Kiyomizu Sannenzaka Museum, which opened in 2000, was Japan's first museum with permanent displays of artworks such as late Edo and Meiji era cloisonné, metalwork, makie lacquerware, and kyo-satsuma ceramics. The works on display here have all been collected by the museum's director, Masayuki Murata, over a span of more than 30 years and are one and all examples of a now impossible to recreate high-level technique and unique sensibility.
From childhood, Murata loved beautiful and interesting things, and from the time he first became self-aware he began collecting items like rocks, insects, and stamps. He especially liked collecting butterflies with their richly colored, beautifully patterned wings, tirelessly examining their bodies' intricate structure and the luster of their scales with a magnifying glass. Perhaps for that reason the museum holds in its collection numerous artworks having butterfly motifs.
As an adult, while continuing his collecting ways with fossils and meteorites he also became interested in intricate handiwork, which led him to begin buying handicrafts from the various countries along the Silk Road as well as Central and South America, and in addition western ceramics and the glassware of Émile Gallé.
While involved in these activities, Murata encountered Japan's Meiji era handicraft arts. Enthralled with beauty of such concentration and polished perfection, he has devoted his energies from that time forward to the collection of and research into Meiji artistic handicrafts.
The present exhibition marks the 20th anniversary of the museum's opening, and from the diverse collection Murata has spent his life assembling, numerous pieces acquired prior to his encounter with Meiji handicraft art have been chosen with an eye to illuminating the origins of his artistic sensibility.
Information on the main pieces