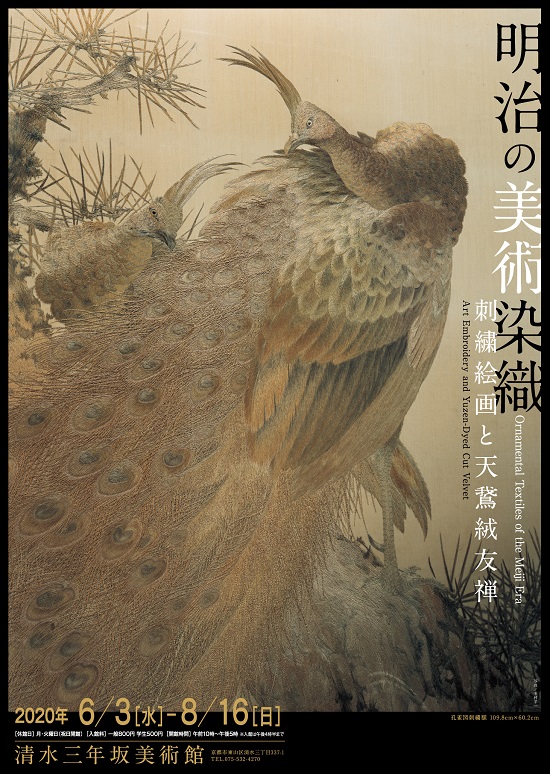 Meiji Era Art Embroidery
Dyeing, weaving, embroidering, the techniques of ornamental textiles in other words, have been used for clothes and fabric products of all kinds to such an extent that they are now deeply rooted in our daily lives. "Artistic ornamental textiles" is a generic term for the dyeing and weaving newly produced from the Meiji era forward, and Kyoto was active in producing a great number of those textiles. Basic designs borrowed from other genres were applied within frames and to folding screens and other furnishings using dyeing, weaving and embroidering techniques, a production process that was actively overseen by Kyoto kimono merchants like Iida Shinshichi (Takashimaya Co., Ltd.) and Nishimura Sozaemon (Chiso Co., Ltd.). Many of these ornamental textiles were exported, while a number were officially commissioned for use in imperial residences.
Of ornamental textiles, we have mainly collected works that make use of embroidery and yuzen-dyed cut velvet techniques. Art embroidery, where the embroiderer sews in a design stitch by stitch, is densely rendered over even large areas such as that for folding screens and wall hangings, which gives testimony to the enormous effort required to produce them. Yuzen-dyed cut velvet involves applying the Yuzen dyeing process to velvet, a technique that was pioneered in the Meiji era. The advantage of Yuzen dyeing is its clear demarcation of lines and different colors, and it sets off the soft nap and gloss of the velvet to great effect.
We sincerely hope that you enjoy the beauty of the exquisite pieces gathered here from our collection for this occasion.
Information on the main pieces