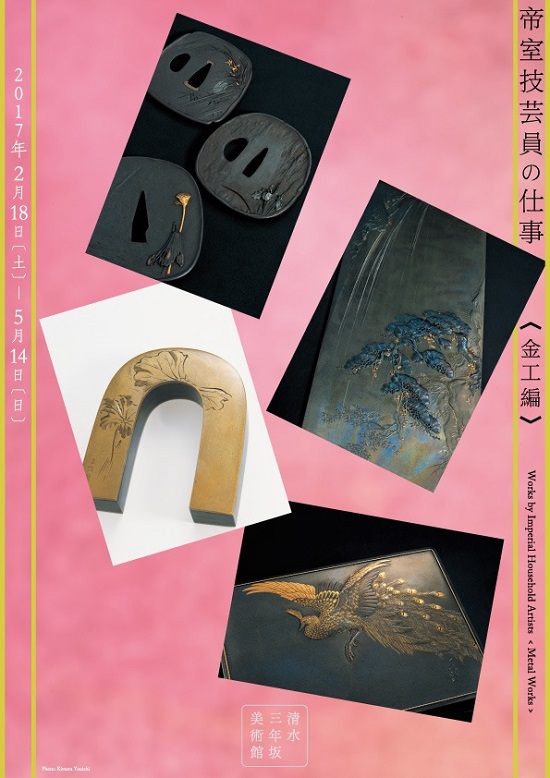 Works by Imperial Household Artists, Metalwork
In the Meiji era the production of superb artworks such as metalwork, cloisonné, and maki-e was an important Japanese industry for putting on display the country's sophisticated culture and national power just as it was beginning to open to the outside world. The Imperial Household Artist system was established to continue and further develop these fine art skills under the protection of the Imperial Family.
Kano Natsuo (1828-1898), the leading metalwork artist of the time, was appointed a member as the system was launched in 1890 (Meiji 23), became the first professor of the Tokyo School of Fine Arts Metalwork Course, and taught the next generation of artists. Later Unno Shomin (1844-1915), Kagawa Katsuhiro (1853-1917), and Tsukada Shukyo (1848-1918), all highly skilled metal carvers who represented the Meiji period, were appointed Metalwork Imperial Household Artists. In the metal carving field they developed further techniques that had been cultivated up through the Edo period, and it is not too much to say that the many exquisitely elegant works they left behind reached the pinnacle of human skill. Though at that time there seemed to be other craftsmen of comparable technical ability, it is the distinguishing feature of works by the Imperial Household Artists that they simply overwhelm all competitors in terms of the air and sophistication of the finished products.
At this exhibit we present works by Shimizu Nanzan (1875-1948), the last metal carving artist of the Imperial Household, as well as Kano Natsuo, Unno Shomin, Kagawa Katsuhiro and Tsukada Shukyo.
Information on the main pieces