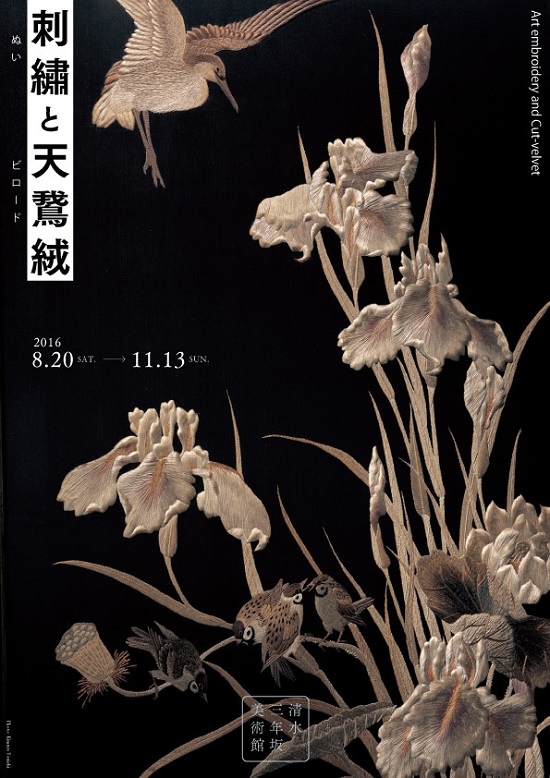 Art embroidery and Cut-velvet
Have you heard of the Meiji era textiles known as embroidery painting, nui-e (embroidery drawing), and cut-velvet yuzen? This embroidery represents traditional natural subjects realistically but with a characteristic flair, using needle in place of brush, and silk or gold thread instead of paint. Through a nap raising technique used over a section of the fabric, cut-velvet yuzen gives an especially exquisite depiction of landscape. These works, which went so far as to include reflected light among their calculated artistic effects, decorated the Meiji Palace, and their exhibition in International Expositions left Western viewers startled and amazed.
For a Japan that had just began to open its doors to foreign countries, exports of art embroidery and cut-velvet as well as other craftwork were a means of acquiring foreign currency, as well as important artworks that demonstrated Japanese cultural achievement to foreign countries. After exhibitions at International Expositions, many of these art works crossed the sea as objects of international trade or as presents from the imperial family or diplomatic representatives to important foreign personages, and they also decorated the mansions of royalty and the bourgeoisie. The majority of the works on exhibit here are pieces that traveled abroad in just such a manner and have now found their way home from Europe and America.
With its craftsmen's skill nurtured in the Edo period and then in contact with the West, Meiji era dyed and woven embroidery flourished at once here in Kyoto. Beginning with works associated with Nishimura Sozaemon Ⅻ (the Nishimura family founded Chiso) and Iida Shinshichi Ⅳ(whose family founded Takashimaya), we present at this exhibition pieces that demonstrate the consummate skill and unsurpassed elegance of Meiji art embroidery and cut-velvet yuzen. We invite you to feast your eyes on silk thread's sheen.