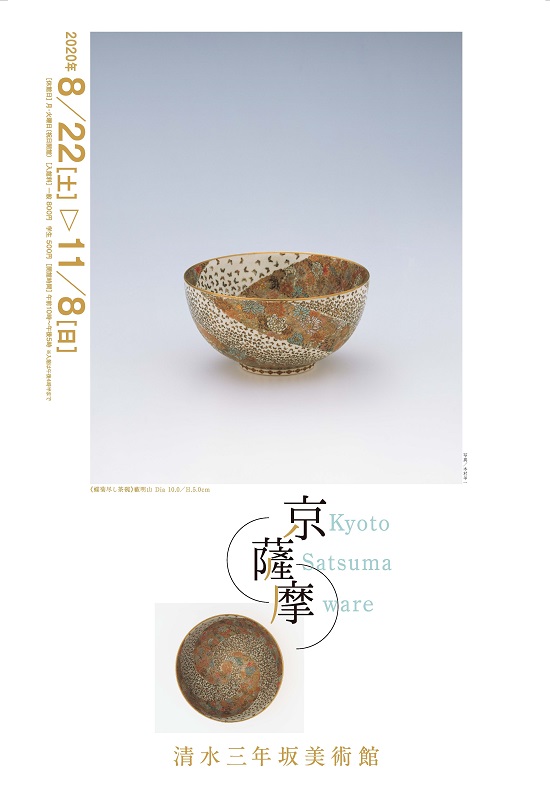 Kyoto Satsuma ware
Satsuma ware is the generic term for porcelain fired in Kagoshima Prefecture, and it dates from the Momoyama period and the work of potters brought from the Korean Peninsula.
The method of painting with multicolored enamels on Shiro Satsuma (white earthenware with a finely crackled glaze) was researched, and raised gilding was added to produce Satsuma kinrande (gold brocade) ware. These lavishly decorated pieces were exhibited at both the Paris Exhibition of 1867 (Keio 3) and the 1873 (Meiji 6) Vienna World Exhibition, winning high acclaim.
Knowing the high evaluation of Satsuma ware applying overglazeand goldware abroad, kilns in Kyoto began producing pottery of a similar style. Satsuma kinrande ware was produced in and exported from Kyoto in great quantities from the Meiji era forward, resulting in Kyoto kilns gaining foreign markets for their products.
The pottery produced in Kyoto of this type was called "Kyo-Satsuma" as opposed to that produced in Kagoshima, which was known as "Hon-Satsuma" ("the real/original" Satsuma). And in the Meiji era, production extended beyond Kyoto to other areas around the country as well, so that there were "Kobe-Satsuma", "Osaka-Satsuma", "Yokohama-Satsuma" and so on. Abroad, however, these were all known by the general name of "SATSUMA". The SATSUMA produced during Meiji, however, was particularly attractive for its minutely detailed pictorial depictions and gorgeously sophisticated beauty.
For the present exhibition, pieces from the museum's collection associated with Kinkozan Sobei VII (1868-1927) have been selected for your viewing pleasure, and in addition, a number of superior works of Osaka-Satsuma and Kobe-Satsuma produced by Yabu Meizan (1853-1934), Seikozan, and others are also included. I hope you enjoy this gorgeous display of kaleidoscopic color interwoven with dazzling gold glaze.
Information on the main pieces